Turning The Dead Into Life Long Trophies.
Whether you call them European mounts, Western mounts, or Skull mounts, Skull Works has become the leader to go to for all your skulls and skeleton services in Michigan. Skull Works is committed to providing legally and ethically obtained natural bones, osteological specimens as well as the finest replica specimens to the educational, medical and research communities. Through superior products, ever-expanding variety and outstanding customer service, Skull Works strives to serve its community as well as the world, in being a leading supplier of skulls and skeletons.
Skull and bone cleaning had been a passion for several years, and with every year that Skull Works grows, it's getting more and more exciting to see all the things we get to play with. Give us a call and let Skull Works handle your trophy. You will not be disappointed.
---
Flesh Eating Beetles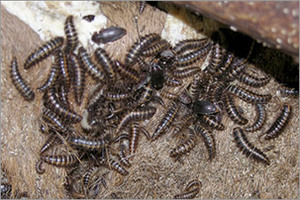 Skull Works uses Dermestid Beetles to give you the highest quality European mounts. Beetles are by far the most effective way to clean your skulls, they are able to remove the meat inside and out. Dermestid Beetles do no harm to the smallest and paper thin nasal bones. Due to the number of dermestid beetles we have per colony, they can eat the meat off a whole skull in about 24 hours. Skull Works gives you years of experience, and a fast turn-around at affordable prices. We use only the best whitening materials on the market to give you the best quality trophy.
---
---
---
The left video shows the beetles eating the flesh off a skunk on day 1.
The right shows the beetles finishing the skunk day 2
---
---
---
To make sure you get the proper customer service please call before shipping and dropping off any skulls or skeletons.
SKULL WORKS
- 32940 Haff Ct. Warren MI 48093
ph. 586-557-1465 or 586-265-7144 email.
skullwork@yahoo.com